Pains we solve
Let people speak up
Motivated employees propel a business forward by positively influencing the work climate, attitudes, customer orientation and ultimately, organisational performance. Use Moticheck to see where the drive is on and where it's not.
Dynamic survey instead of static picture
What do you get from a snapshot compared to a film? A limited amount of information! Use Moticheck's dynamic and data rich model and improve the quality of your information and decisions.
Make the survey easy and modern
Does it take hours or seconds to answer survey questions? Well, your employees are used to social media interactions that take only seconds to respond to. With Moticheck you'll be able to provide a similar experience.
Free up your HR time
No need to spend your valuable HR time for preparing a survey, sending reminders, doing follow-up analyses and presentations. Moticheck is a ready-to-use, powerful service so that your HR team can have time for people and actions.
Include employees, don't exclude
Can everyone participate in your employee experience survey? Even people on sick leave or on a vacation? The field force and the temporary employees? There is no reason to exclude them. Moticheck includes everybody as it is always switched on.
Cover the full employee experience
Your focus may support your strategic goals while your employees have completely other topics in their mind. You should be open to capturing the full circle of employee experience, not only the focus area. You can expand your radar with Moticheck's people-centric approach.
Eliminate the survey's timing risk
Performing surveys once a year for a short period of time implies a big timing risk. You may hit exeptionally good or bad times that cannot be used for projecting the future. Moticheck gathers data every day, no matter if it is low or high tide in your company.
Engage people
Long questionnaires and delayed results put people off. Moticheck delivers instant results and is up to the expectations of modern app users.
Unmask the survey results
Looking at an eNPS or ESI index score does not tell a story. And most people do not go much further. For them the indices mask the results. Do not generalize. Instead, visualize the employee experience categories for your team and make the results easy to understand and to talk about with Moticheck.
Measure the pulse in present time
Ask how it is, not how it was. Be in the present. The environment, your people and the expectations are changing very quickly. Moticheck enables capturing current vibes and revisiting the results when needed.
Share and compare the results
Many survey tools provide results to HR professionals and managers. So why should the rest of the employees care? Moticheck provides a dialogue that engages employees by providing instant feedback and results to every employee.
Face the challenges of the new normal
The post-Covid world can be challenging in many ways. People in different roles have different needs and experiences. The best way to capture their moods is through running continuous employee surveys. Moticheck lets you discover where the changes are happening.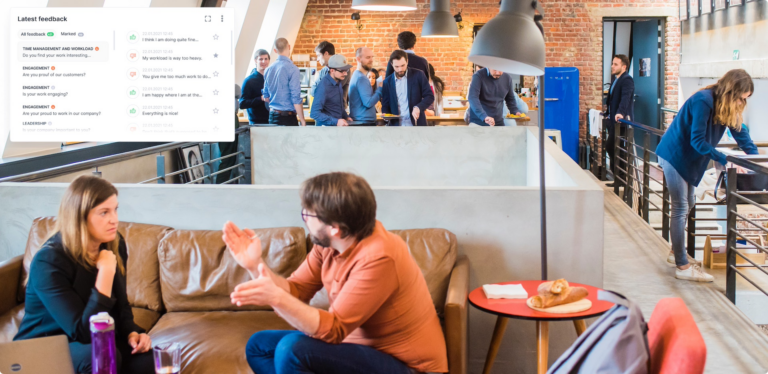 Request a customized live demo
Moticheck is a management tool that gives you an overview of the current state the employee experience and shows any changes in real time. See how it involves people and how it delivers to support your growth. Get answers to your questions and find out how Moticheck can help you in your challenges.
Get in touch with us!
FiIl in the form or
call us.
We are proud to serve the most ambitious employers