Moticheck powers growth and change. Driving employee engagement, employer branding, and leadership culture.
Big data with a single click
A single question, every day
Moticheck asks each employee a single question every working day. It gives you a unique overview of your organization and teams as it gathers hundreds and thousands of responses in a day. That is the true power of data and people combined. Yet it takes only seconds to respond to the anonymous daily question.

Moticheck delivers results in real-time and lets everybody see how others have responded to a similar question. People can post comments. People can see their team overview so that everybody can be on the same page in a team.
Easy onboarding
Moticheck is Software as a Service. It means you do not have to install anything on your domain. Moticheck runs as an online service and is available to you and your people in apps, via email, and on the web page. At the same time, it is private, it is secure and it is always there. Your people will experience easy and engaging onboarding. The system speaks your language and you can set your personal preferences with only a few clicks to make it your very own communication channel.
Powerful dashboard
Everybody in your team has access to the Moticheck dynamic dashboard that returns answers, comments, and analyses in real-time. It visualizes the answers of a team, provides a comparison to other teams, and enables zooming in on various details. The results are in easy-to-understand categories and the dynamics are illustrated thoroughly. It is powerful, deep, and very informative at the first glance. The managers and HR professionals have additional customization tools at their disposal to create, add and modify.
Moticheck helps you in your quest
Our unique and fresh approach delivers daily. We provide a solution that makes it easy and engaging to have a daily dialogue with your employees. You get results and trendlines with Moticheck that tell you the real stories. You get real-time results and visualizations. You get tools to drill down to details. You get customization to suit your business. But above all, you get a tool that is easy to use, engaging and productive.
Based on vast experience
The questions we use have been carefully crafted by HR managers with international experience and are based on the experience of many leaders and managers. The system focus is set on making the results easy to understand and act upon. We view it not only as a survey tool but also as a communication and management tool.
Safe and secure
Moticheck lets you see the answers and comments without revealing employees' identities. Moticheck takes GDPR very seriously and we use a very limited number of data attributes for every one of your people. We make sure that no one else has access to the data. You do not have to worry about system installation or internal IT matters. The service runs in our domain yet it is private to your organization. It runs on the latest cloud technology and uses a multi-level backup solution.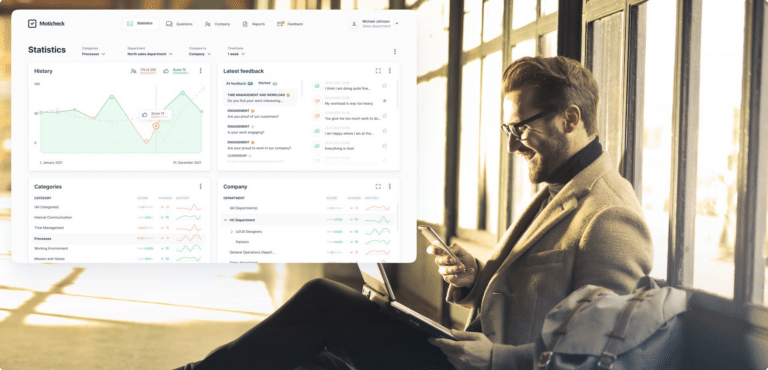 Try Moticheck for free!
Make your move to improve leadership, and engage and retain your people. Try Moticheck for free! No credit card is required. No exit fees. 30 days free trial period!
You'll get an unlimited number of users. An unlimited number of business units. Fully automated employee onboarding. And 260 carefully grafted questions in 13 easy-to-read categories to engage your employees and leaders.
Or request a customized live demo
Moticheck is a management tool that gives you an overview of the current state of the employee experience and shows any changes in real-time. See how it involves people and how it delivers to support your growth. Get answers to your questions and find out how Moticheck can help you in your challenges.
Get in touch with us!
FiIl in the form or
call us.
We serve thousands of employees and leaders in various industries.