May 12, 2023

– Aidan becomes chatty and we have improved both API and SSO

Since the middle of May, users in the manager rights can chat with Aidan asking follow-up questions and advice. For example, one can ask for an action plan or additional resources such as books to read or methods to implement – whatever helps to tackle the issue.

Other improvements:
Company data batch API adjustments to enable sending employee start date with the batch;
SSO adjustments in order to decouple the SSO usage from the Teams usage;
Fixes in response channel selection flow.
April 14, 2023

– Introducing Aidan, an AI-powered mentor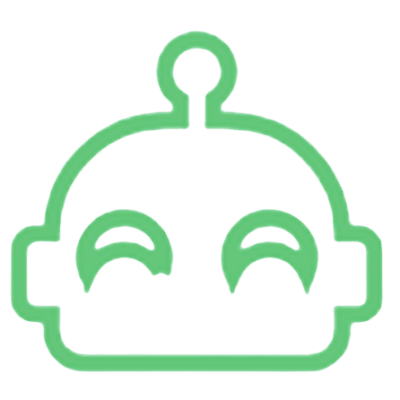 This might well be the most important tech development in the space of HR and management tools. We have taken a quantum leap to AI. We started testing a leadership consultant and mentor called Aidan with selected customers. Aidan supports managers in solving issues and praises them for good leadership when appropriate. Say tuned for more news. Aidan will be available for all customers in May.
Other notable improvements and updates:
Dashboard data filtering is possible based on tags added to employees. For example "Outsourced employee", "Part-time/full-time employee" etc. Tags can be added via the edit employee modal.  Once created and added to an employee, it can be reused to tag other employees in the company. All unused tags are deleted 1 x week.
Company data batch API includes an endpoint to fetch all employees of a company.
Teams bot auto-install background job checks if an employee belongs to the department that is currently "active" in Moticheck. If not "active", the bot will not be installed.
Bug fixes in a manager's monthly email.
March 16, 2023

 – New filters for enhanced analytics
The first release in March is focusing on improving analytics in Moticheck.
There are new additional filters available in Moticheck to zoom into the results by

employee positions and length of service.
The data will be shown only if at least 3 employees in the company have the same position or at least 3 employees in the company fall into the same predefined service length period.
The renewed style guide supports an unlimited number of additional filters, which will be wrapped as rows containing 6 filters underneath each other; expand button is available to open up these additional filters. So you can anticipate further additions to the filtering options soon.
We have also added additional checks in the dashboard to provide user anonymity.
The Microsoft Azure SSO users will be now notified if they log into Moticheck with the wrong Microsoft account and are prompted to log out. This is quite usual that people have several accounts such as student accounts or a private account in Microsoft in addition to their work account.
To improve the management of catalog questions in Moticheck the toggled-out questions are shown in gray color in the view of the questions.
And we did some smaller bug fixes in the dashboard feedback card.
February 27, 2023

 – Continued focus on the process optimization
We continued working on improving processes. To ease login for admins and managers,  a user can request an OTP multiple times in a row and timeout is counted based on failed login attempts.
For Microsoft Teams users we enhanced the Teams bot automatic install that is scheduled as a background job running approximately once per day.
We also switched hosting from Hetzner to Digital Ocean, which provides more managed services. This is important to provide robust security.
February 8, 2023

 – Process optimization
The first release in February includes numerous optimizations:
Forward button on the login page to return to the OTP view
Having selected a mobile app as a channel for questions in the chatbot, desktop users will be routed to the Moticheck website to scan the QR code and download the app; mobile users will be routed directly to the App Store/ Google Play
Chatbot will ask about employee preferences before asking for a comment
Refactoring of error handling for the API in order to provide errors in a list
Managers will continue receiving questions if their departments are set to inactive in Moticheck; the question's business unit switch to inactive status
Prolonged sessions for the mobile app users
Teams Bot installation instructions include a list of Microsoft Graph permissions that need to be accepted by the tenant's admin in order to install the bot for the users.
January 26, 2023

– Microsoft Azure SSO and several security updated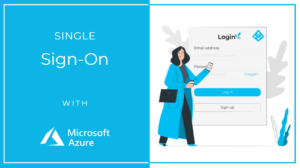 The latest release is all about security. The big news is Microsoft Azure SSO (single sign-on). Moticheck Teams Bot offers SSO to users in any role. It makes Moticheck more secure and much more convenient.
If an organization is a Moticheck Teams Bot user, the SSO will apply to all of its users automatically. With the Teams Bot installation, the Azure tenant id of that organization is stored in the Moticheck database, and when a user logs into the app, the app will check the presence of the tenant id in the database. If exists, users can log into Moticheck with their organization's/work-related Microsoft account. SSO login will be invoked in all login instances, so SSO users will not receive one-time passwords (OTP) for login.
The second important milestone is releasing an API for automated company data updates. It uses Azure AD tokens to verify the sender of the data, and it enables to update of the entire organization's data (except company preferences) via the API. This enables time savings for admin teams and eliminates human error and delays in data updates. All-in-all it stands for better data quality and better data management.  
Other security updates follow up on the recent PEN testing and include among other items:
more complex OTP code
a longer timeout between the 2 consecutive sends of OPT to a user
enhanced user input validation to avoid XSS attacks
additional check-in uplifting employees' access rights
CORS and Strict-Transport-Security improvements
advanced iFrame restrictions
access token validation is added for data downloads
admin login URL security improvements
The UX and UI improvements include:
fixes in Company card and Questions card table structure/stepping
processing of failed daily questions (network/external errors)
small fix in manager's regular monthly report/email
December 9, 2022

– Moticheck is well-prepared for the holidays in all countries
We started to use Calendarific API to fetch public holidays around the globe so that we can manage questions in all countries our users may work in. This feature should improve the user experience even more. The main purpose is not to ask Moticheck questions during holidays and enable the employees to be with their loved ones without distraction from the office.
November 24, 2022

– Taking individual customization to an unseen level
The big story of the last release in November is the introduction of a choice of response scales that can be set individually. Motichecki is known for its' unusual approach to employee surveys. This is because unlike other survey providers, Moticheck focuses on employees and their direct managers. There are binary and non-binary scales now in use to suit the different natures of employees and to make it more convenient for employees.
A numeric five-choice response scale is available, alongside a yes/no scale. What you should know about it:
Response scale can be changed via the company settings;
Company admin roles can allow both response scales or just one of these;
The default scale is a binary scale for all the current companies;
If both scales are enabled by the company admin roles, users will see the answer scale selection in the user menu and can choose between these two.
With a five-choice response scale, the reply options are 0%, 25%, 50%, 75%, and 100%, displayed in an email, Slack, Moticheck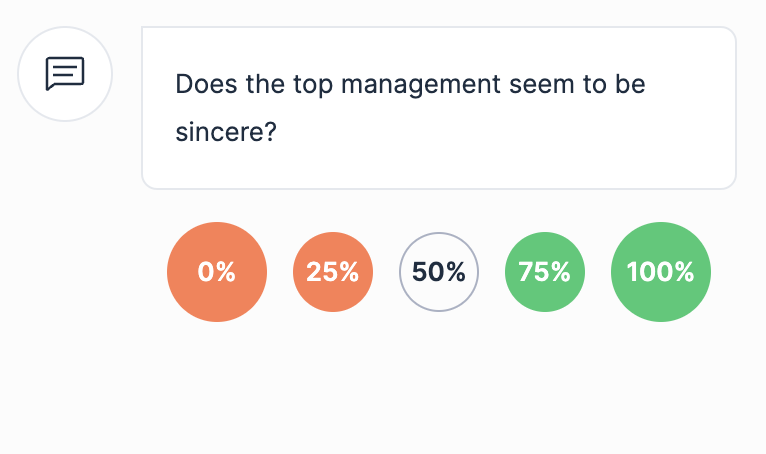 bot, and Teams bot after each Moticheck question. With a binary scale, the response options are still displayed as Yes and No buttons but converted into 100% and 0% respectively in all the calculations. Moticheck chatbot will advertise the answer scale options to employees if the company admin role has enabled both scales and the user has not yet selected its preferred option.
Other features included in the release are:
The Swedish language is added to Moticheck;
Help texts include a link to the Moticheck website's FAQ page;
Bug fixes.
November 1, 2022

– More power to manage teams and channels
There are occasions when the full team is out of the office. it might be a planned collective vacation or an offsite meeting. Anyway, it is good to switch Moticheck off for these days for the whole team to let them concentrate on the occasion. So from now on, admins can toggle business units to inactive/active in order to pause these from receiving Moticheck questions; inactive status starts the next day after toggling, and active status starts immediately after switching it back on.
Moticheck offers a variety of channels like email, Slack, Microsoft teams, and Moticheck mobile apps. But all customers do not want to use all of them. So we have developed a function for the admins to configure allowed communication channels in the organization settings, By default, all current channels are allowed (email, mobile app, Teams, Slack). If any of these channels is not allowed – Moticheck will stop utilizing that for that particular organization.
Other new features and minor developments:
The chatbot invites users to visit the dashboard and see the team results; after answering a daily question (or the last question in the weekly questions flow) the chatbot provides users a choice to share a comment or see the results in the dashboard.
The mobile app has double-checked before saving as a channel. It will not be saved as a preferred channel for the user if he/she does not complete the mobile app installation.
The order of the business units in the organization structure view won't change when a business unit is updated
Managers can add/edit/delete employees only in their business unit
Ukraine and Australia are added as countries
Moticheck backend software is updated
October 13, 2022 –

Updating some processes and features
One time password (OTP) can from now on be received to Slack and Teams channels as well (in addition to email and SMS)
If a user has chosen to receive Moticheck questions on a weekly basis, he/she will get the questions on a weekly basis in whichever ways he/she enters the chatbot (from email, push notification, slack, or teams bot, or from the dashboard)
CEOs are excluded from questions that ask feedback about managers
A catalog question "Would you recommend our organization as an employer to your friends and acquaintances?" is added to the Engagement category
October 3, 2022 –

Introducing Moticheck bot for Microsoft Teams
This is big! We have launched the Microsoft Teams bot to introduce a new channel for collecting daily employee experience input. All our current and future customers can install the bot from the Moticheck admin panel and make it available for the whole organization.
It's really simple, just click the button in the Moticheck admin panel, follow the instructions you get with the email, and click the button in the email to install the Moticheck bot app in Microsoft Teams.
The Moticheck bot is a private channel that has all the same features as other channels in Moticheck to enable daily communication, providing input and feedback.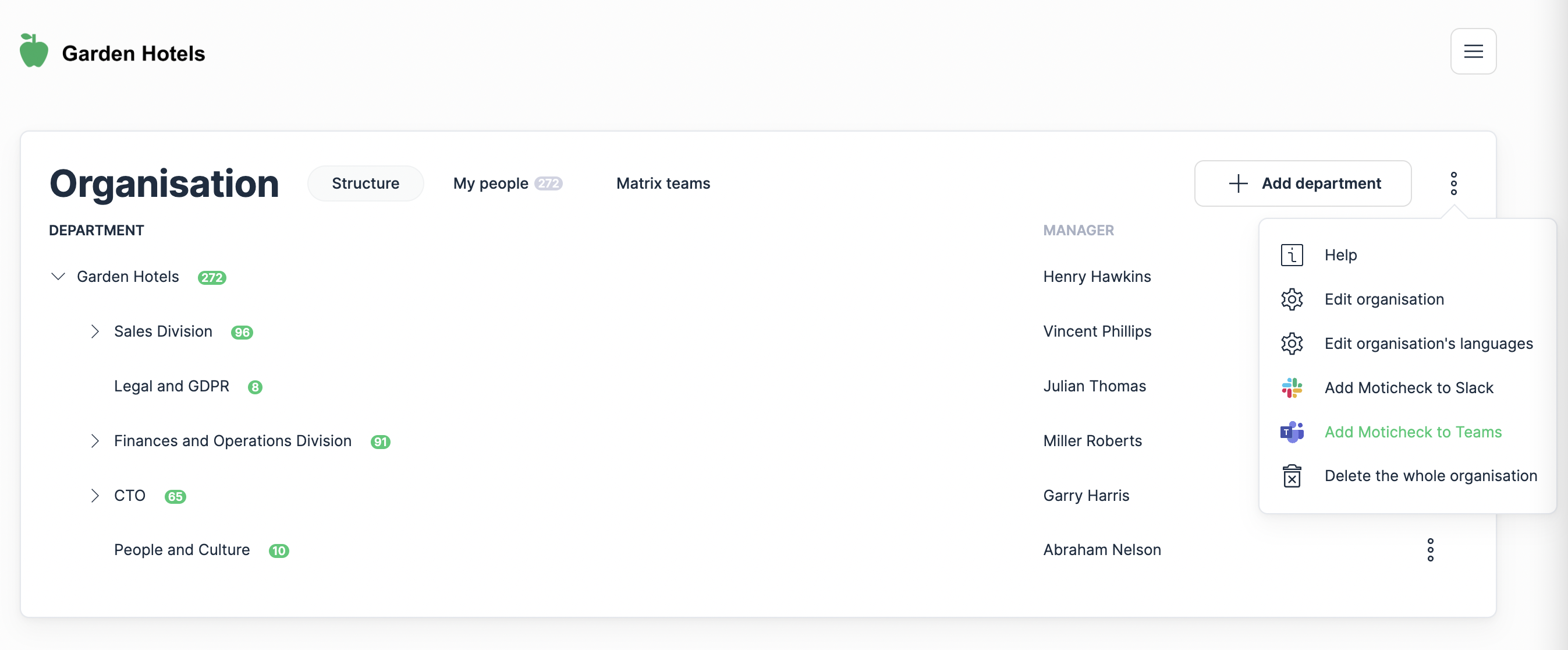 September 7, 2022 –

Improving the user experience
Moticheck mobile-only users will no longer have confusing channel selection options in the user menu. The options are limited to the channels available to every individual user.
Manager-has-seen -mark in the comments area of the feedback card and question cards is now red if the manager has not yet seen the comment. This is to draw managers' attention to signaling their feedback and saying "thanks" to employees who took the time to write comments.

We have also applied some changes to the departments' cards in the Moticheck dashboard. These relate to bug fixes and data comparisons. 
August 12, 2022

– The magic behind the screen

In August we updated several features that are unseen to regular users. But they are important to every user.
Admin login is now logged from now on in a better manner. It is a security feature and a comfort feature.
Employee language across the whole application is taken based on the country he/she is from, in cases, the employee has not chosen his preferred language and the company has enabled the respective country language for its users in Moticheck.
Minor improvements in catalog questions' wordings and translations.
July 1, 2022

– More advice and options for managers
We have improved the information, design, and advice provided in the monthly managers' emails.  The new features of the managers' email are:

Colorful design and call-to-action-type of questions to the manager;
An overview of the top 3 best-performing categories;
… and the worst performing catalog questions.

Other important updates with this release:

Onboarding invitations can be resent to the inactive employees up to 5 times via the Organisation → People settings. This functionality is available to all admin and manager roles;
Managers can from now on edit/add/delete the people in their team, as well as re-send and onboarding email/SMS to them;
Channel selection in the user menu includes all options and if the mobile app is not yet installed, a user is redirected to the store;
Various security improvements regarding tokens, secrets, and session storage.
June 13, 2022

– Moticheck introduces matrix teams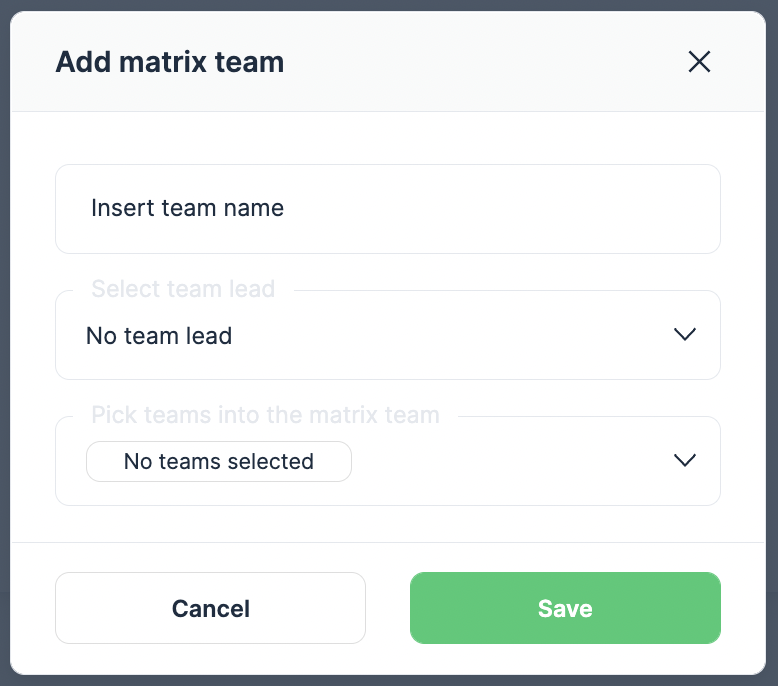 Matrix teams include already existing business units and the child units of the selected business units grouped under the matrix team umbrella. This functionality enables the creation of cross-border functional teams for example and hands access to the results to leaders of parallel functions.
The dashboard displays a consolidated matrix team result for the people in an employee role. The managers and admins can see the results at every business unit level.
Other important updates with this release:

Chatbot invites users 1 x a month to check out the team's results from the dashboard
Chatbot invites users to select Slack as a channel if the Moticheck Slack app has been enabled by the company admin roles.
The Chatbot data bar shows only the user's business unit results (and only the parent unit's results in the case of managers.
Desktop login includes a mobile phone-based login option.
Dashboard speed and performance improvements.
User-friendly error messages are displayed in case a user is deleted from Moticheck but still accesses the app with its old/stored credentials.
May 30, 2022

– Mental health category is available
We are introducing a new category – the mental health category. Mental health has emerged as one of the most underrated yet most costly occupational health and well-being elements. The long social distancing, remote and hybrid work has made the mental challenges more felt and more evident.
It is a well-known saying that prevention is times cheaper than cure. Here is how Moticheck can support its' customers. The mental health category maps if there are any issues with mental health or not. It investigates the reasons for mental issues and indicates any change in this category. Employees are also asked to provide feedback on the adequacy of the mental health initiatives and support the employer provides.
The mental health category questions are turned off by default. The questions can be activated from the questions menu.
Other important updates with this release are visible on the resulting dashboard. For better readability, the tooltips in the heat map display employee experience categories instead of the names of the business units.
May 17, 2022

– Slack integration is here!

Big news! We have added Slack integration to Moticheck. This means that Moticheck users can choose in addition to emails, mobile apps, and a terminal solution the Moticheck Slack app to reply to the daily questions. Our continuous employee experience monitoring just became more integrated and even more seamless for organizations that are using Slack.

Moticheck Slack App is now available with the following functionalities:
Company admin roles can add the Moticheck Slack app to its Slack workspace for employees to receive their daily or weekly questions via Slack from the Moticheck organization menu.
When the Moticheck Slack app is added to the workspace, a choice of channels will become visible in the Moticheck user menu for employees to select the preferred channel for Moticheck questions.
If Slack is selected as a preferred option, the questions will be posted into a private chat channel between the Moticheck Slack Bot and the employee.
With the current implementation, an employee will be routed to the Moticheck chatbot during the answering process, where he/she can add a comment and check the results.
Side note: at the moment only users with admin rights in both Moticheck and Slack workspace, will be able to add Moticheck Slack App to its workspace, as the user email is verified during the app installation.
Moticheck Slack App uninstall event from a workspace will also delete the tokens from the Moticheck database and the users will no longer have an option to select Slack as a channel.
Other important updates with this release:
Onboarding email will be sent in a default language of a location if an employee has not yet chosen its preferred language. E.g. if a company has enabled Finnish, Estonian and Lithuanian languages, and there is a new hire from Lithuania, the onboarding letter to him/her will be sent in Lithuanian.
Moticheck chatbot will advertise to users a weekly answering option if a company has enabled the possibility to reply to Moticheck questions weekly.
A link in a manager's monthly email will route a manager directly to its department in the dashboard with a preset filter option for all subunits.
Performance improvements and bug fixes.
April 8, 2022

– Custom schedules and automated time zones

With our growing customer base around the globe, we have added time zone support to Moticheck. When you travel for work, the time zone of your daily questions will be automatically adjusted after every interaction with the app – whether you reply to questions in the chatbot or check the results in the dashboard. As an administrator, you can edit your organization's default time zone via the organization's settings. For self-registered customers, the time zone of your organization will be taken from your browser settings during the registration process.

A few months ago we taught Moticheck to consider your vacation time and pause the daily questions until you're back in the office. This function operates in the background if Moticheck is connected to the organization's HR systems. Now, we have made that option available in the user menu for you as well. You can tell the system that you are off for some time so that you can fully relax and Moticheck won't bother you with questions. Just pick the range of dates from the calendar and you're set for a break.

Additional updates in the release include:
Custom date picker and range picker are available on Moticheck
The dashboard heat map displays gray circles if no questions have yet been asked from that particular department in a given category. It is handy when a new department has been added to the organization
Various improvements in the header, chatbot, and the user menu
March 11, 2022

– More video support and a data download function now in Moticheck
In the first part of March, we have been focusing on supporting our new and existing customers. Now there are links to relevant tutorial videos in the self-onboarding process and other places where support needs have been identified.
In addition, we have launched a new functionality for those who would like to extract data from Moticheck to produce custom reports or analyze the data in comparison to their previous people survey results.
We have also added a flag to managers to make it easier to notice if there is someone from their team responding to the onboarding questions.
Other updates in this release include:
Only direct managers can mark the feedback comment of/her team members as "viewed"
Improvements to the company card
Improvements of the employee segment filter in the manager view
Responses to daily questions can be changed, when entering from an email
The mobile app menu has been updated
Feb 14, 2022

– New languages available in Moticheck

Having welcomed users from Latvia and Lithuania, we have added new languages to Moticheck to provide everyone a possibility to reply to daily questions in their mother tongue. As of now Finnish, Latvian and Lithuanian languages are available in Moticheck, on top of already existing English, Estonian and Russian, and adding new languages is even easier. Furthermore, admins can now easily limit the list and define the languages available for users.

Other updates in this release include:
If only one language is selected as available for a company by the company admins, the language selector is no longer visible in the user menu
Ad hoc question text is obligatory in the company default language only; all other language texts are optional
Onboarding email will be sent only in those languages that the company has enabled
Login page improvements for mobile users
Improved error handling to manage the cases when a user has been deleted but still clicks on a button in an old email to reply to a daily question
Smaller design fixes in the Onboarding dashboard
Jan 31, 2022

– Replying to questions every second day or once a week
At the organization level, the daily questions can be scheduled to:
every day
every second day
every day or once a week
If the third option is selected by the admin roles from the organizational settings, every user can individually choose whether to receive the daily questions every day, as it is currently, or once a week. In the case of a weekly option, the user will receive once a week one email/push notification with an invitation to reply to all of his/her questions from the past week in the chatbot during a single interaction.
Moticheck starts collecting feedback about the application to keep up with the user's expectations. Specific labels will be used to let users know that the question is not about the employee experience as such but it is about the Moticheck system user experience.
For newly onboarded and inactive users, 2 automatic onboarding reminders will be sent. A first reminder will be sent after three days and the second reminder after ten days from the first onboarding email/text message. A user is considered inactive if he/she has not chosen the language or replied to any questions.
To improve user experience a date picker is available on the company sign-up page and for admin roles in the organization, view to edit employees or insert ad hoc questions.
The dashboard will no longer show the company card and the categories card if there is not enough data.
Bug fixes: admin roles can't delete themselves from the system. Instead, the whole organization should be deleted.
Nov 29, 2021

– Vacations and work schedules will be considered when sending the daily questions
Having occasional time off from work is very important for everyone's well-being and performance, hence we have started to build functionalities to Moticheck, which can learn about your vacation time and pause the daily questions until you're back in the office. In the same manner, Moticheck can in the future know about the schedules of the shift workers and collect feedback only during the working days.
Additional updates in the release include:
The late-night answering option is available (at 22:00) for replying to daily questions.
User onboarding will take place in the chatbot if the user does not have an email address.
Manager and admin roles can see from the all employees overview page if an employee has started using Moticheck (green mark shows that the employee has replied to at least one question or chosen the language).
Latvian and Lithuanian public holidays are considered in the daily questions flow.
Nov 19, 2021

– Fully mobile phone-based Moticheck
For everyone working remotely, on the go, and not in an office environment, we have made available a fully mobile Moticheck. Users can receive a text message on their mobile phones with an invitation to download the Moticheck app from Google Play or App Store.
Following a swift onboarding interaction with the app's chatbot, the users start receiving their daily questions as push notifications on their mobile phones and can easily reply to these questions in the app. No emails, no desktops needed.
A full list of features in the current release is as follows:
Mobile number-based authentication.
Either email or mobile number should be filled in for every user.
Welcome, SMS to users without emails, with the invitation to download the mobile app from Google Play or App Store.
If only a mobile number is provided, daily questions can be received and answered via push notifications and a mobile app chatbot.
Updated login page for mobile app users with both email and mobile number-based authentication.
Free text commenting in the chatbot opens up without additional clicks, once the daily questions are answered.
A comment to today's question can be edited in the chatbot throughout the day. It re-opens for editing after every 5 minutes from its last submission.
Fewer repetitions in daily questions, the introduction of checks to filter out questions that were asked during the past 6 months and past 1 month.
A load more button below the dashboard question cards to view all question cards in the scope of the current filter selection.
Emojis can be added as free text comments and are subsequently displayed in the dashboard feedback sections.
Mobile app updates will occur automatically behind the splash screen.
Nov 17, 2021

– Company self-onboarding available on Moticheck

We have made it simple for every team and organization, big or small, to sign up to Moticheck and start checking your team members' engagement. You will only need to fill in a short registration form, accept our terms of use, add all your team members and you're ready to go.

Should you wish to try out the Moticheck employee survey solution for a bigger organization, you can easily build your whole organization's structure in our web app.

With the current release, we have made available the following new functionalities:
Company self-registration with the following attributes:
company sign-up page to insert data;
Moticheck terms of use page with the explicit accept button, which triggers the company creation in the system back-end;
a confirmation email about the registration is sent to the user;
automatic routing of the user into the Moticheck web app to add its first business units and employees;
tooltips to guide the user in adding new business units and employees;
company configuration options enabled for admin roles.
Company deletion possibility from configuration options if only one employee and one business unit are left, including confirmation email about the deletion.
Dashboard design improvements.
A feedback card can be removed from the dashboard for regular employees and be visible only for manager and admin roles. Admins can configure from company settings, whether the feedback card is shown or not.
Historical weekly periods can be selected from the dashboard filters; all question cards are shown for these weekly periods in chronological order.