Mastering Leadership: How To Benefit from Moticheck's Latest Features And A Leadership Chat with Holm Bank
Categories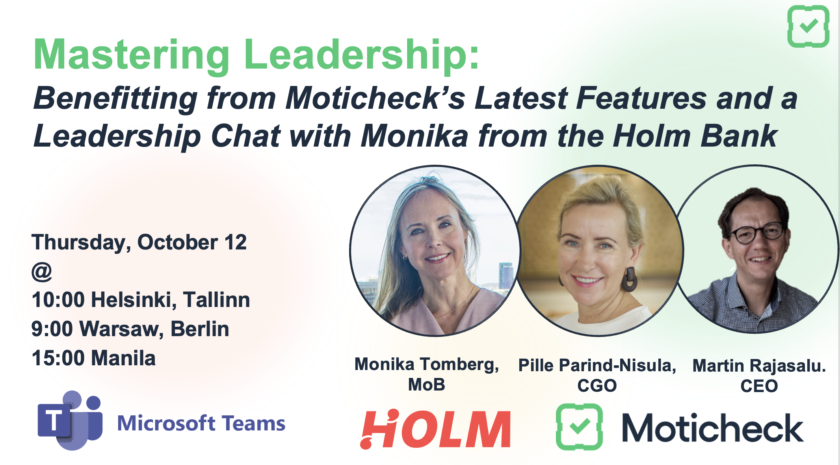 We are thrilled to invite you to an exciting event that promises to be both enlightening and inspiring! Mark your calendars for Thursday, October 12th, as we bring you an exclusive webinar featuring Moticheck's latest updates and an insightful leadership chat with Monika Tomberg from an innovative and startup-minded Holm Bank.
What to Expect:
 Moticheck's Latest Updates: Get an inside look at Moticheck's cutting-edge updates and features that are shaping the future of leadership.
 Leadership Chat: Join us for a thought-provoking conversation with Monika Tomberg, a management board member of Holm Bank and a seasoned expert in the field of leadership.
Webinar Details:

Date: Thursday, October 12
Time: 10:00 AM Helsinki/Tallinn Time (9:00 AM Berlin / 15:00 PM Manila, Philippines)
Registration Made Easy:
Secure your spot by registering here. Upon registration, you will receive a calendar invite with the Microsoft Teams link, ensuring you won't miss this enriching experience.
Don't forget to extend this invitation to your colleagues, managers, and leaders within your organization. This event is free of charge!
We can't wait to have you with us as we explore the future of leadership and innovation. See you at the webinar!