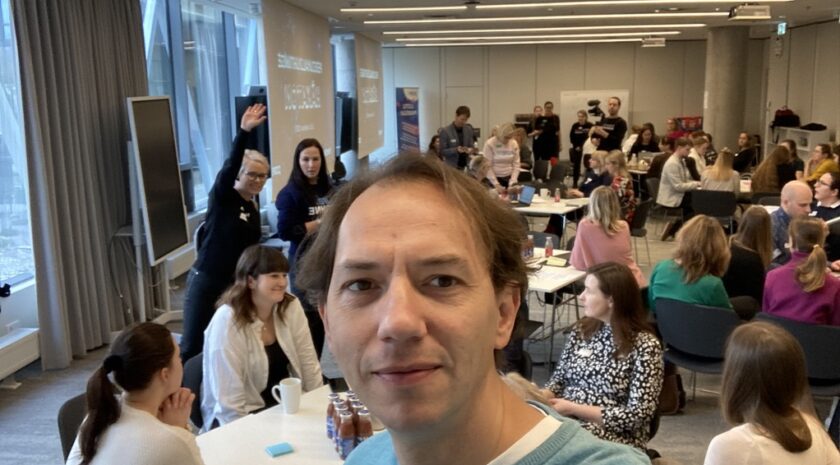 Hackathons are great. You get to meet lots of new faces, and the events are very charged. There is a huge positive vibe and lets-get-s…t-done attitude. Everybody is very optimistic about finding great solutions. It's usually justified as well. By the end of the (second) day, bullish demos and pitches are presented, and the atmosphere is enormously supportive. That is because the teams have accomplished something extraordinary. And it is not only the short time that makes the achievement exceptional. It is also the difficulty of the problem they are solving that makes pitching a solution so rewarding. 
At the beginning of February Moticheck had the opportunity to participate in PARE, the Estonian HR Association, hackathon as a mentor. The event was organized in a very interesting – the hacking teams were not necessarily original problem owners. PARE members had an opportunity to pitch their cases to PARE and to people who were interested in hacking HR issues. The teams were formed on a voluntary basis. Problem owners had the chance to participate in the hacking while also letting outsiders tackle the problem and serve as a point of reference for additional information. 
So what's eating CHRM in 2023? What are the issues that you can not buy solutions for? Based on the PARE hackathon there are three big issues the HR field is facing:
Talent acquisition is still a challenge.
It is very difficult to find employees for rare positions and roles. They are not on the radar of job seekers. It could be an employer branding issue, but on top of it, most people do not just know what rocket scientists do on daily basis. Or as from the case in the hackathon, a foster home parent. It is not the problem of the bold and beautiful, it's a problem for often underfunded public institutions that serve very important social purposes. So how do you get to the radar, and from where do you get successors? 
The ESG matters a lot, but there are more words than actions. For both, the employees and the organizations. How to take actions that are fulfilling for both? How do you know if you are making progress? How do you visualize it? How do you measure it? How do you contribute personally?
The post-pandemic world is different from the one we had until 2020. Hybrid work is here to stay. Organizations have taken quantum leaps to make hybrid work possible but do not like the outcomes. Some people work in the office daily, but others do not. They become strangers. People work in smaller or problem-centric teams only. Organizational culture is replaced with multiple small subcultures and HR has no control over those. It is a huge paradigm shift. And there is undoubtedly an unawareness and anxiety about what's to come. There is a lot of talk about mental health, but exercising a mentally supportive organizational culture is bloody hard when people work in small teams and do not associate with the rest of the organization anymore.
Hackathons usually promote thinking outside the box and are mostly about drafting a new IT solution. The same applies to the issues above. Should we think of solutions that are not digital in HR? Absolutely, although the HR field still has a lot of catching up to do in terms of becoming digital, connected, and mastering data. We also have to acknowledge the modern patterns of human behavior. If working from home feels good, and saves time and money, then it is good. If people do not miss meeting new colleagues in the office then you have to go for a digital solution. I mean, you can hope that people do not like chatting on smart devices, being brief, and having a say about things they do not know much about, but social media success stories convey otherwise. And that is very important. The people and culture teams have a lot to learn from social media patterns. 
There is a thing about hackathons. The key to success in a hackathon is usually understanding the problem and its root cause. But it can also make you fight the problem the organization does not want to acknowledge. The issues listed above are not actually problems. These are symptoms. TA is more difficult for closed organizations that lack marketing dollars. ESG and D&I are issues where employees feel a misalignment of beliefs and values. Social distancing is also an outcome. Well, talk to your employees. Not good enough? Then try listening! Top-down communication is easy and relevantly invaluable. Bottom-up communication teaches leaders and fosters innovation. Ask two simple questions: Am I more engaged when talking or when listening? Is it easier to distract me when I'm talking or listening? It is obvious to me as I ask this question daily. I'm in the business of listening to employees.
Let me jump back to the hackathon. Who won? The ESG monitors can be digital. These sound like low-hanging fruits. Numerous fitness apps cheer us when we achieve the next level of being … normal. Maybe yet another digital ESG app would not survive? Is there anything outside the box? Well, in this particular hackathon, there was. That's why the team won the hackathon. They built a solution specifically for the organization. It is value-driven, purpose-based, and makes good use of internal strengths. It also fights the problem, not a symptom. Is it usable for other organizations? It probably is.